About Us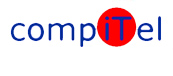 Compitel is a small business, this year celebrating working 20 years in health care.
Set up in 2002 by Richard Eason, who has over 25 years' IT and systems experience, Compitel has been involved with commercial, health, social care and non-profit organisations, as well as utilities infrastructure and banking institutions - our customers.
Over the last 10 years we have come to focus particularly on health and social care systems; from pilot projects with HospiceUK and King's College London; to SystmOne design, development and implementation for - among others - St Christopher's Hospice in Sydenham, Martlets Hospice in Hove, Mountbatten hospices in Isle of Wight and Southampton; St Mary's Hospital Community Nursing team, Isle of Wight; to now extending the SystmOne roll-out to care homes, to complete the chain of care.
We have set up user groups to share experience and expertise with systems between users, to support and inform their use of their systems but also to feed back to system suppliers in order to develop those systems to best suit real-world requirements.
Our aim is to provide health and social care organisations with IT and systems expertise to get the most from their resources and provide excellent patient and client care.
"We are or will one day be, patients or clients ourselves and it's therefore in our own and everybody else's interests to improve health and social care and provide the best support to those providing that care"